Model predictive control (MPC), also referred to as moving horizon control or receding horizon control, is one of the most successful and most popular advanced control methods. The basic idea of MPC is to predict the future behavior of the controlled system over a finite time horizon and compute an optimal control input that, while ensuring satisfaction of given system constraints, minimizes an a priori defined cost functional. To be more precise, the control input is calculated by solving at each sampling instant a finite horizon open-loop optimal control problem; the first part of the resulting optimal input trajectory is then applied to the system until the next sampling instant, at which the horizon is shifted and the whole procedure is repeated again. MPC is in particular successful due to its ability to explicitly incorporate hard state and input constraints as well as a suitable performance criterion into the controller design.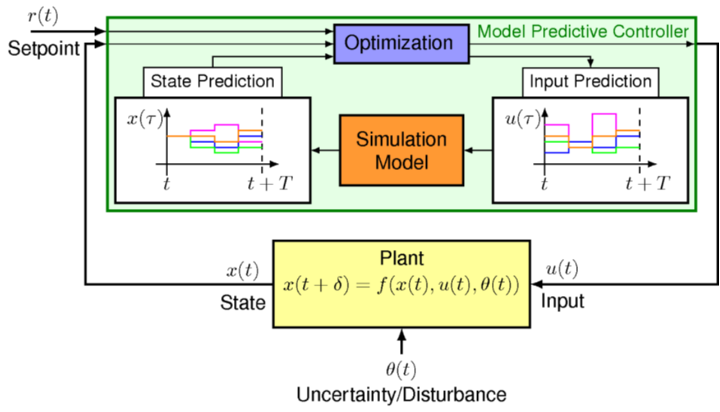 The research at the IST focuses on the development and the analysis of MPC schemes for which desired closed-loop properties can be established. These include closed-loop stability and performance guarantees, robustness with respect to uncertainties and disturbances and the development of distributed control structures. Another reasearch topic at the IST is the design of efficient MPC methods, in terms of computation as well as communication in the control system.
Please find below all our recent MPC research fields at the Institute for Systems Theory and Automatic Control.